APPEL AUX DONS / FUND RISING
la collecte de dons continue en 2019 -
Operation "COLLECTION OF DONATIONS: MERRY CHRISTMAS BIRDSHOT! »Continues at the beginning of the year 2019 -
All that we finance is done in a totally private way because, although we are an association authorized law 1901, we do not profit from public funds.
We need you, indeed.
Horus birdshot it is:
- 100 partner hospitals in nearly 25 countries
- 130 doctors
- Contacts in more than 50 countries
- More than 2000 people who follow us on social networks
- More than 25000 visits on our website
- Genetic research on birdshot since November 2018
- Specialists Ophthalmologists, Immunologists, Genetic Researchers
- Partners
- Members
- Donors
So here are at least 2 reasons to donate by December 31, 2018:
1 / This will allow you to tax 66% of the latter in 2019
2 / It is to advance the genetic research, the more we will go quickly, the better it will be!
What better than a good action to spend a good holiday season!
So be generous ...
"I always told myself that if one day one found out that my children and grandchildren had a birdshot, I would not stand for them to tell me that I knew and that I did not do anything!" -
Sylvain MIGNON
Founding President.
So ... why donate to Horus-Birdshot?
First, making a donation is an act of conviction.
It is a powerful act that must allow society to move forward and settle the various concerns that can not be solved alone.
It is also thinking of the future: the cure of any kind of disease is a significant step forward that must make us stronger with regard to the future.
It's like thinking about your family: it can unfortunately happen that one of yours is one day a victim of this disease and the fact of being able to find a treatment is reassuring.
The loss of vision is an issue that is quite terrifying and needs to be reactive
It will not be said that I will not have done everything not to reach such an end.
And if it does not allow me to heal, I only hope that my action will have allowed future generations to not suffer the same thing.
BUT what will these donations be used for?
First of all setting up a research protocol is a long and expensive mechanism. In fact, private laboratories do not care about orphan diseases (because they affect only very few people and therefore not profitable) it is necessary to bring to the scientists
all the means for them to succeed. It also means having guinea pigs that must be "hired", made to move, medicalize them, etc ... But also pay researchers.
Birdshot research will also serve other autoimmune diseases as it is symptomatic of the latter.
It is out of the question that we give up on this disease.
Because all together we can succeed in finding treatments, if we give ourselves the means!
Sylvain MIGNON
président fondateur.

faire un don par carte bancaire
cliquez sur l'icone PAYPAL et suivez les instructions
don unique
deduction de 60 % des impots

merci de votre soutien

nouveau :

faire un don mensuel par cb
5,10,20,30,50 euros par mois
deduction de 60 % des impots
cliquez sur l'icone PAYPAL et suivez les instructions
merci de votre soutien

FAIRE UN DON A HORUS BIRDSHOT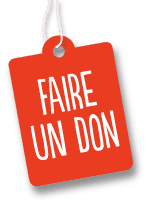 1/ PAR CHEQUE A L'ORDRE DE :

ASSOCIATION HORUS BIRDSHOT
A L'ATTENTION DE S.MIGNON
13 RUE DES TERRES BRULEES
51390 GUEUX
2/ DIRECTEMENT PAR CARTE BANCAIRE
SUR NOTRE COMPTE SECURISE PAYPAL (asso horus birdshot)
(cliquez que les icones Paypal du site et vous irez directement sur notre page association horus birdshot, vous n'aurez plus qu'à lire les instructions notées)
UN RECU VOUS SERA ENVOYE PAR COURRIER DANS LES DEUX CAS
MERCI ENCORE DE VOTRE SOUTIEN

deductions fiscales 2019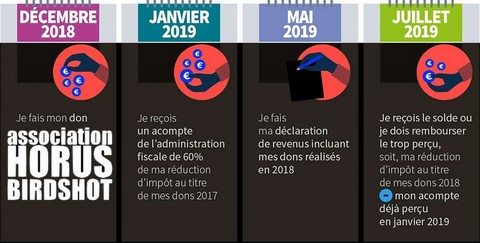 66% of the amount donated to the Horus birdshot association is deductible from your income tax, up to a limit of 20% of your taxable income. Following your donation, you will receive your tax receipt allowing you to certify your donation to the administration.

This website is 100% secure. All the banking information to process the payment is totally secure. They are not stored on our computer systems. Thanks to the SSL encryption of your banking data, you are assured of the reliability of your internet transactions.

Our donor service is at your disposal to answer all your questions. Do not hesitate to contact us by email: contact@horus-birdshot.fr
Your details are essential to send us your tax receipt. In accordance with the Data Protection Act of 6 January 1978, you have the right to access, modify, rectify and delete data concerning you.

This donation form is 100% secure thanks to the SSL (Secure Socket Layer) encryption protocol